If you're worried about an upcoming deadline for an essay or an assignment and you believe that you simply don't have enough time to get it completed to the required standard that will get you the grades you deserve, it's more than natural to feel panicked.
However, there are many custom essay writing services, just like Papers Time, that exist to help you through these difficult times. Nevertheless, with so many to choose from, you'll want to make sure that you're making the right purchasing decision.
Today, we're going to explore PapersTime.com to find out whether it's the right service for you.


Top Rated Essay Writing Services
Table of contents
Services – 6/10
It's easy to find whether the service you require is available thanks to the order form on the homepage (there is no dedicated services page). From the lists, you can see that a multitude of academic levels are available to choose from, as there is a variety of all the common assignment types.
There are 30 services in total but, while all the basics and most common types are covered, it's worth noting that other websites have over 50+ services to choose from, meaning this list can seem rather limited.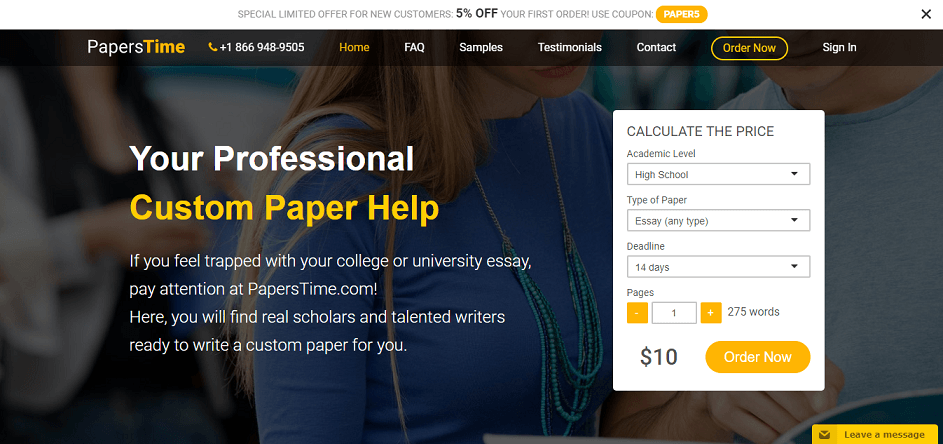 Pricing – 4/10
Using the same order form, you can work out an accurate quote for your required piece, should you choose to use the website. The price is worked out from the academic level and assignment type you require, then multiplied by the deadline you need. The more urgent you need your paper, the more expensive the service gets.
To give you a rough idea of what prices are like, a Master's essay with a seven-day deadline will set you back around $24 per page. This is rather expensive for a service such as this, and there are more affordable alternatives out there.
Content Quality – 5/10
The quality of the service is also hard to judge. While the samples on offer look good and high-quality, and the testimonials state the website is great, none of these reviews have dates and could, in theory, be years out of date and no longer relevant.
Searching online, I found a selection of mixed reviews, some claiming the website 'did its job' whereas others wouldn't wish it on their enemies, claiming poorly written content in poor English, and even examples of slightly plagiarized content.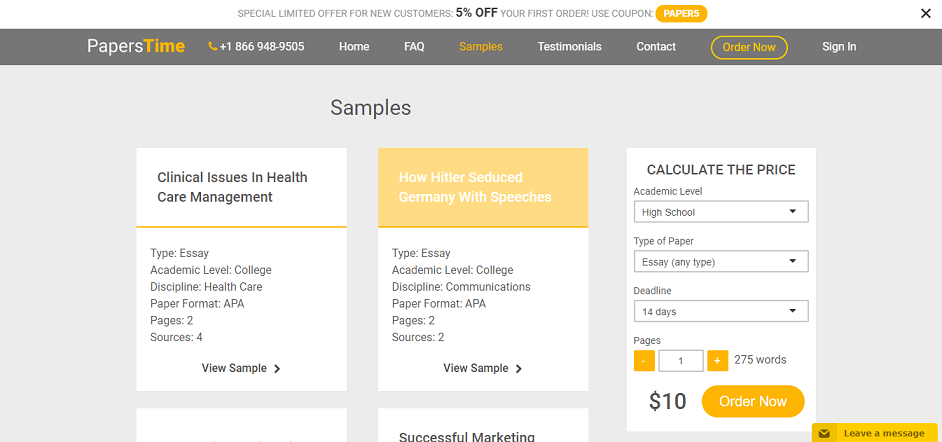 Customer Service – 4/10
If you need to get in contact with the service either before or after making a purchase, you might find this rather difficult. There is no live chat available for instant assistance, but there is an English address, a US toll-free phone number and an email address, although there is no knowing how long you'll need to wait for a reply.

Mary Walton's conclusion on PapersTime.com
While the PapersTime website looks good at first glance, the lack of comprehensive contact options, the variety and inconsistency in the quality of the content and the absence of key services means you should probably avoid using the site where possible.
Rated: 2.5