Students around the world are up in arms. With mounting pressures to succeed and be the best, levels of stress and depression have never been higher, especially with students who are trying to do the best they can yet schools and educational facilities are relentless when it comes to setting deadlines and assignments. Buy Essays aims to alleviate that stress by handling your custom writing queries.


Top Rated Essay Writing Services
Table of contents
Website Interface – 4/10
When you sign onto the site for the first time, you'll notice a unique yet strange website layout, similar to a magazine format. All the website features seem to be bunched into the middle of the page, and it can become quite difficult to navigate. All pages are full of unnecessary filler content, and there are multiple pages missing from the navigation menu including, reviews and a contact page.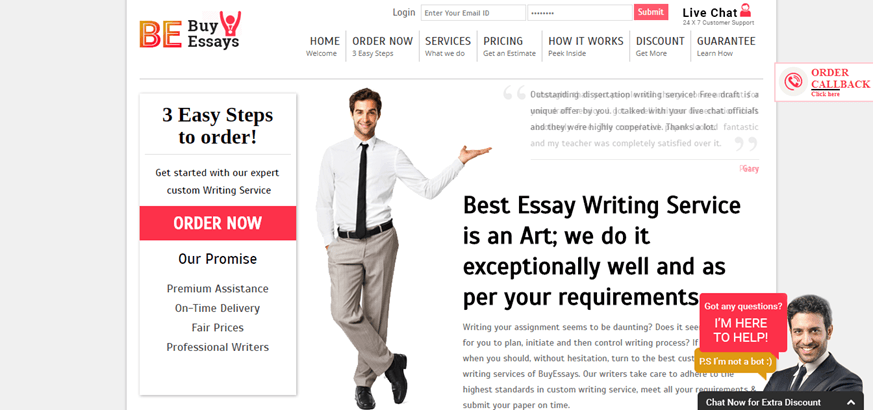 Services – 3/10
When considering the services of the website, you are forced to input your information to create an account before proceeding. Once completed, you'll be face to face with an extremely limited list of services with all the common assignment types but noticeably missing a tonne of important and very important document types that all custom writing services should provide for.
Pricing – 3/10
Using the pricing page as a guideline, a ten-page essay written to a Master's degree with a 48-hour deadline will set you back around $218. However, this is an average quality essay. With premium quality selected, this will set you back around $270. Although not the most expensive custom writing service, there are more affordable options available that are suited to those with smaller, tighter budgets.
Content Quality – 3/10
Since there are no review or testimonial pages, I took to the Internet to discover some shocking facts about BuyEssays. There were numerous complaints regarding the quality of the content including high levels of plagiarism, sometimes as much as 50%, articles riddled with typos and errors and some reports stating that they essay had been poorly translated after being written by a non-English speaker. On the other hand, some users described having a good experience.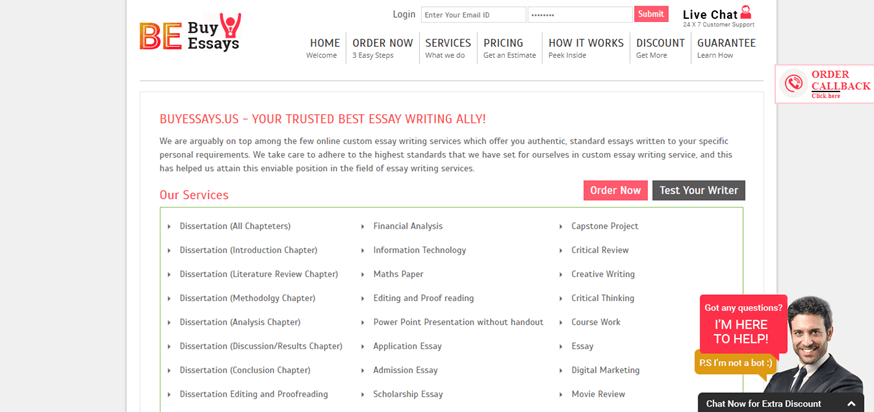 Customer Service – 2/10
After searching the site high and low for the contact page, I was greeted with two phone numbers and address, only suitable for students and residents for the United States, meaning that international students will risk paying extortionate international calling rates. There is also an online Live Chat that isn't 24-hours and an email form but reply times can vary, not good for students needing instant assistance.

Mary Walton's conclusion on BuyEssays.us
To summarize, BuyEssays.us is one of those sites that needs a lot of work. The foundations to be a good custom writing service are set, but improvements just need to be implemented to bring it to the top of the market. With this in mind, students looking for custom writing services to use now will be much better off taking their business elsewhere.
Rated: 2.1