Students around the world are encountering the same problem every single year. With mounting pressures to have a balanced social life, part-time jobs and attending lectures, there's little time to focus on completing assignments before their due deadlines. Essay Leaks is a custom writing service that aims to alleviate this stress, however, the website has a fair way to go.


Top Rated Essay Writing Services
Table of contents
Website Interface – 2/10
Unfortunately, EssayLeaks is one of the most overwhelming custom writing service websites around. The unattractive color scheme is extremely off-putting and small text and crammed paragraphs make it incredibly difficult to read and follow what's being said. There is a distinct lack of a dedicated services page and no easy-to-use order form on the homepage.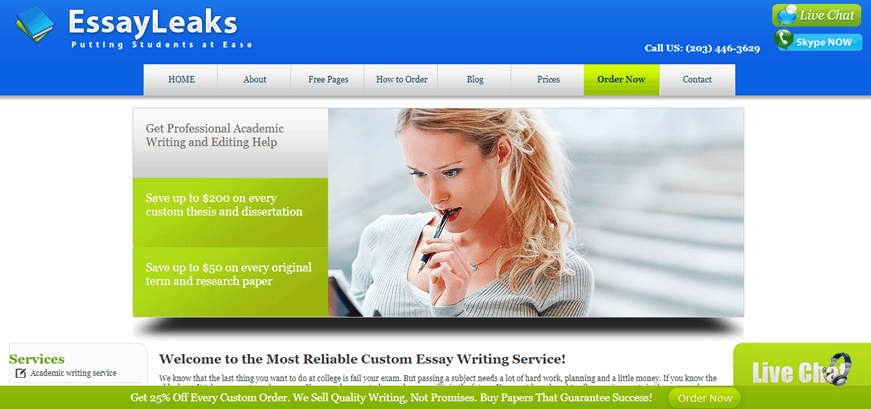 Services – 2/10
As there is no dedicated services page, you have to proceed with an order to see whether the site will handle your request. Using the pricing page, you'll find that there are only 7 assignment types to choose from. This is incredibly limited, meaning that students will have to go elsewhere to have access to a full range of services and assignments.
Pricing – 3/10
The pricing page is overly complicated and manual to work out so it's highly advised that you just avoid this page. Using the order form for an accurate quote, a ten-page essay, written to a Master's level with a 48-hour deadline will come to a staggering $431. This is including the two free pages you receive as a first order client. This is extortionate prices and simply not affordable for a student living day to day on a tight budget. There are much more affordable custom writing services available.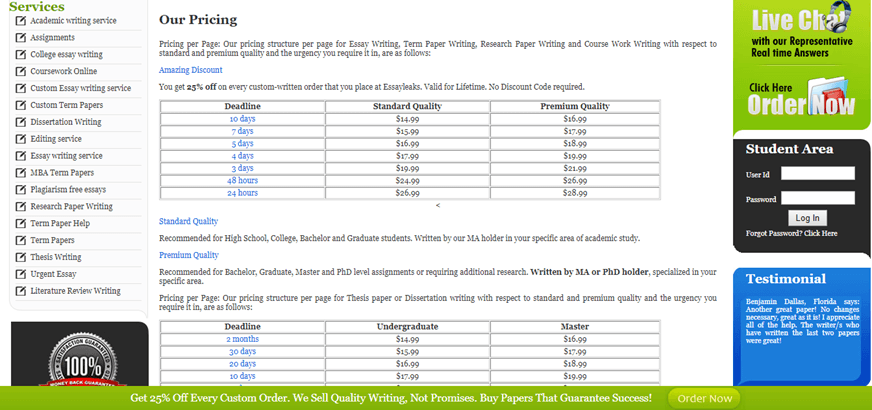 Content Quality – 3/10
There is no dedicated testimonials page with the exception of the small blue box on the right-hand side that provides absolutely no information whatsoever. Searching online, I quickly discovered that many people had issues using the site. There were a lot of reports of high levels of plagiarism, some even as high as 67% using a basic copyright scanner online. There were also claims of content that was riddled with mistakes such as typos and poor sentence structure and there were even a couple of people who received essays on the wrong subject.
Customer Service 4/10
There are a handful of methods to contact the website should you need too. There's a basic live chat feature found on every page which would be the most convenient way to communicate. Alternatively, you can call the company using the United States phone number or contact using Skype. It's worth noting that there is no international calling line, meaning students outside the US are subject to potentially expensive phone calls.

Mary Walton's conclusion on EssayLeaks.com
EssayLeaks.com has a long way to go before it can call itself a good custom writing service. With a much-needed update to the website alongside improvements to quality and pricing, this could be one of the best. However, in the meantime, students looking for a site to use now are much better off taking their business elsewhere.
Rated: 1.8