Expertsmind.com is mentioned in this article under comparative fair use.
Simplegrad.com is not associated with and not sponsored by the company that operates Expertsmind.com
---
As a student, you'll be aware of the daunting and overwhelming of an impending assignment deadline. Set out of the blue by your most hated professor or lecturer, it's as though they expect you to drop everything including your social life, your online time and your study time for the rest of your lessons. Don't they know that you've got a part-time job? To minimise this being a problem, assignment help services, such ExpertsMind.com have been set up to alleviate these stresses.

Top Rated Essay Writing Services
Table of contents
Services – 2/10
Experts Mind isn't like your original custom writing service. On this website, you can simply ask a question that will help you to answer your assignment question. You simply input your question into the website, and you can receive the answer. You can order an assignment from the site, but this is an extremely confusing process which, in reality, only offers around 20+ assignment types. The services that the site actually offers is extremely misleading and may not be worth your time trying to figure out.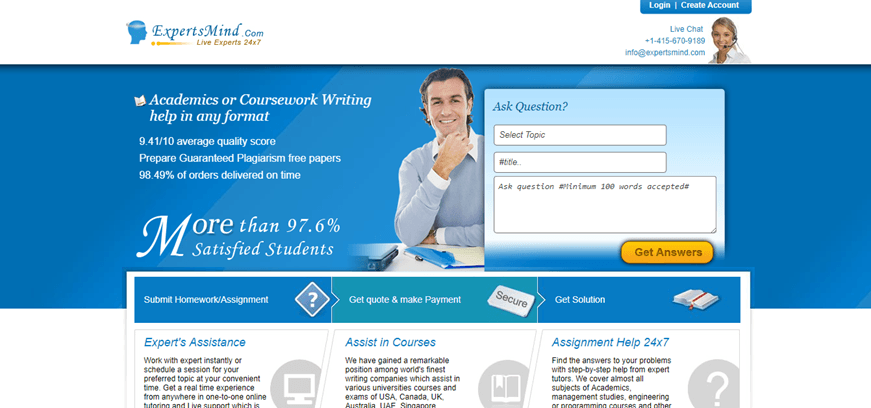 Website screenshot source: http://www.expertsminds.com/ as seen of August 08, 2017
Quality – 3/10
Since there is no dedicated testimonials or reviews page, this leads me to believe that the website is operating illegitimately and lacks credibility. Searching online, I quickly discovered that many students had complained about their assignment questions being answered by unreliable sources that could easily be found online, not through professional knowledge. When it came to the custom writing service, students complained that their delivered content was poor quality, riddled with mistakes and errors and obviously wasn't written in practised English.
Pricing – 2/10
The pricing scheme on ExpertsMind raises a few eyebrows. When it comes to the question service, there's no set pricing guidelines which mean the website can charge whatever want to whoever they want. This is the same when it comes to the custom writing service. You simply enter on the order form what price you are expecting to pay, enter your personal information and then they'll send you a quote. This is a very illegitimate way of handling business.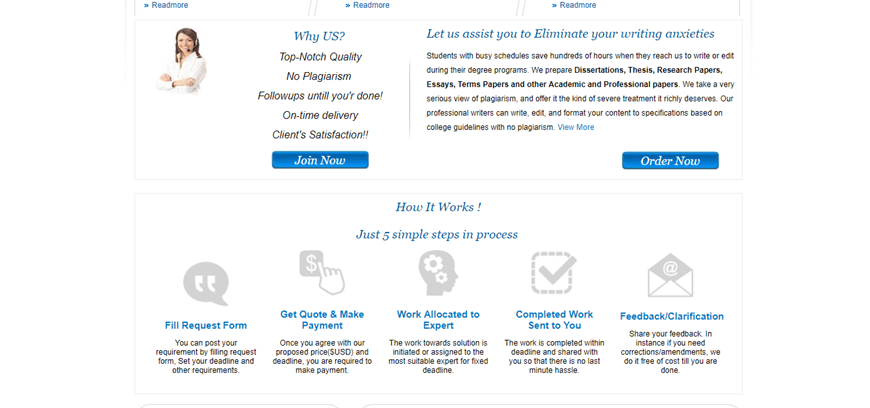 Website screenshot source: http://www.expertsminds.com/ as seen of August 08, 2017
Support – 3/10
Referring to the contact page, you'll notice there is a very limited number of ways to contact the company if you need to. There's a US phone number, an email address and a physical address that states that the company is based in India. This is an extremely limited amount of methods to contact the company. For example, if your assignment you have ordered isn't turning up on time, how will get hold of them? This service is only really suitable Indian students or students inside the US.

Mary Walton's conclusion on ExpertsMind.com
As you can see, Experts Mind has a lot to consider before it can pride itself as a decent custom writing service. With poor quality, an extremely confusing services list, high prices and signs of illegitimacy everything, it's highly recommended that you take your custom writing service tasks elsewhere.
Rated: 1.8