Life can sometimes get a bit much, and things start to get on top of each other. Don't worry; we've all been there. However, as a student, this means that one busy period can slip up your grades and cost you the actual grade that you deserve. This is where custom essay writing services like Easy-Essay come in.
Today, we're going to look at the ins and outs of Easy-Essay.org to see whether this is the site you should be spending your hard-earned money on, or whether you should look elsewhere.


Top Rated Essay Writing Services
Table of contents
Services – 6/10
It's easy to find out whether your requested service is covered by the website using the drop-down menu on the order form on the homepage, or by referring to the dedicated services page. As you can see, there around 30+ services total, covering everything from essays and reports to SWOT analysis and dissertation.
While most students should be able to find what they are looking for here, it's worth noting that many leading services offer 50+ services, meaning some more niche assignments will have to be completed elsewhere.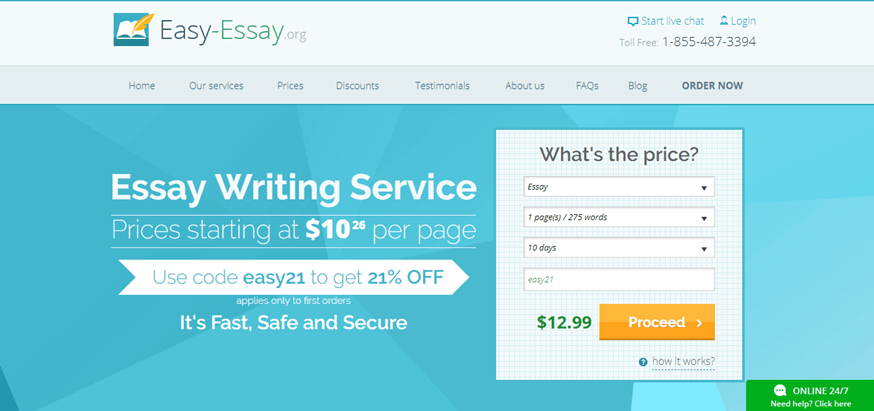 Pricing – 5/10
You can work out the pricing for your unique assignment using the price calculator on the homepage of the website, or by clicking on the prices page in the navigation bar. To give you a rough idea of what the prices are like, a 6-page essay with a 5-day deadline, a rather standard assignment, will set you back around $89.
However, it's worth noting that this is the final price of the first-time buyer discount code with takes off around 21% of the original price. While not too expensive, there are definitely more affordable services out there.
Content Quality – 5/10
Referring to the testimonials page, you'll find a collection of shimmering five-star reviews. However, none of these reviews has a rated system, no indication of what the service provided was or a date, meaning the reviews could be over 10 years old.
Searching online for more answers, I found some very mixed reviews where students had said the content was average, although there were many examples where the content had signs of plagiarism and many of the delivered assignments weren't proofread properly as promised.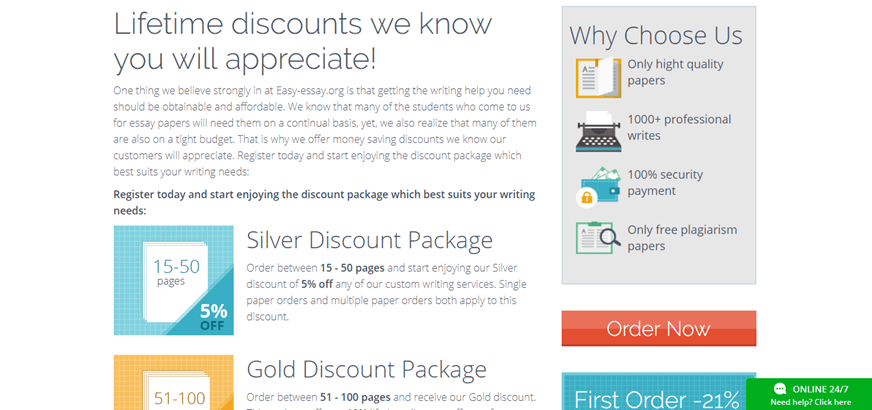 Customer Service – 4/10
Throughout the website, you'll find a collection of methods you can use to contact the website both before and after sales. In the header, you'll find a live chat option, as well as a US phone number you can call. If you head over to the dedicated contact page, you'll also find a single support email address and a UK number.
However, there are no dedicated pre and post-sales email address, no support for international users, no social media links or Skype contact, meaning that you may be waiting a long time for a reply, especially when the company experiences busy times.

Mary Walton's conclusion on Easy-Essay.org
As you can see, there are many pros and cons to using Easy Essay. While a comprehensive site with many services on offer, the pricing is simply unjustifiable and with limited support options, many students such as yourself may find you're left in the dark when it comes to getting your assignment completed quickly and accurately.
Rated: 2.5