The life of a student can be a tough one. Trying to balance all aspects of life can be tricky and, at times, completely overwhelming. Customer writing services, such as Instant Assignment Help, aim to alleviate this stress by providing a writing service that can cover you for your deadlines, allowing you more time to concentrate on other, more important things. However, this writing service barely makes the grade.


Top Rated Australian Essay Writing Services
Table of contents
Website Interface – 3/10
As soon as you sign on to the website, you'll instant notice the overwhelming design and cluttered feel. This makes navigating the website extremely difficult and long-winded and this isn't helped by the constant pop-up ads displaying discounts that the users are entitled to receive. However, they are all the pages you would expect to see and an order form on the homepage, enabling you to get your order started quickly.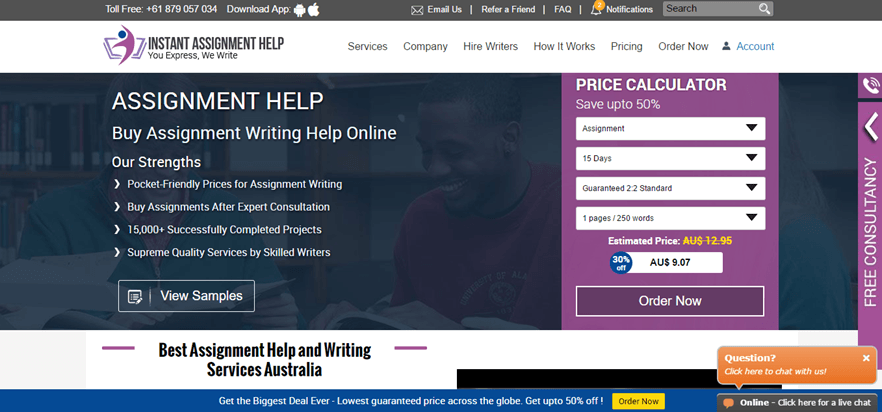 Services – 5/10
The services page of the website is the opposite of comprehensive and is simply filled with filler content that has been used to make the site look more informative. It would be much better if the site simply has a services list, detailing what services the website provided. You can find a complete list of service through the order form, which contains an extensive list of all the basic services; however, there is a distinct lack of the more niche assignment types, meaning this is not an all-rounded solution that can be used by all students.
Pricing – 4/10
Using the price list found on the site, you can easily compare the prices of each assignment type and receive a rough quote depending on your personal circumstance and requirements. A ten-page essay with a two-day deadline will set you back anyway from $130-$200, depending on the quality and requested grade of your essay. This is not the most expensive solution but is also not the most affordable. $200 is a lot of money, especially for a student living on a tight month-to-month budget, meaning this website would not be a suitable, regular option.
Content Quality – 6/10
After laboriously searching for the testimonials page, you can find reviews for the content of the quality. As expected, most of the reviews boast five-star reviews but they are a lot of 4 stars, 3 stars and even 2-star reviews which lead me to doubt the quality of the work. The reviews seem comprehensive and up to date but after searching online, there are many complaints stated their essay was high in plagiarism and there are even reports of some resales.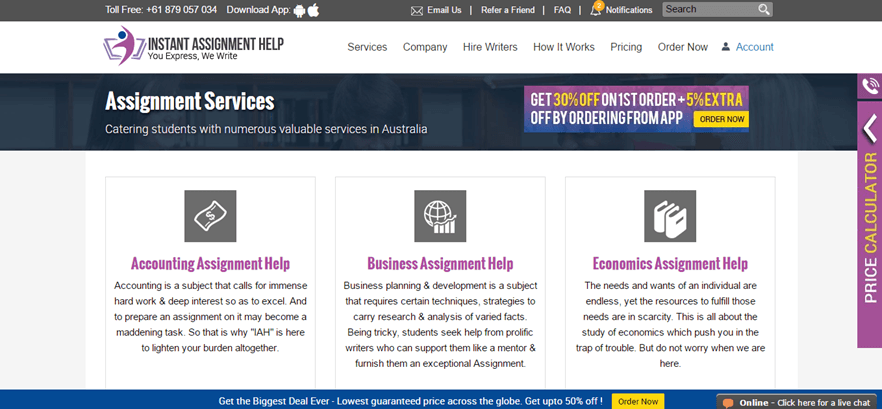 Customer Service – 3/10
Firstly, there is no easily-locatable contact page meaning you have to scroll throughout the website to find the contact details. There is a phone number at the top that is dedicated to Australian users, meaning that international users will have to pay a fortune for phone costs. There is also a live chat feature and the ability to email the company. Despite having all the options, it would be so much easier if the site had an easy-to-find contact page

Mary Walton's conclusion on InstantAssignmentHelp.com.au
In conclusion, InstantAssignmentHelp has the foundations to be a good writing solution website but it is not quite there yet. With some updates to the site, including a contact page and an improvement in the consistency of the quality of the assignments, this site could be a hot contender when it comes to custom writing solutions for OZ students.
Rated: 1.9