Many students don't have the time in their tight schedules to sit down and write all of their essays. Paper Writings has been set up to address this growing problem and tries to provide a simple and affordable solution to fit this niche.


Top Rated Essay Writing Services
Table of contents
Website Interface
The first impression of PaperWritings isn't too bad, however, it does come across slightly cluttered and even the color scheme can come off quite overwhelming and off-putting. Despite this, orders can be made with ease from the first screen of the homepage, allowing students to make their orders quickly.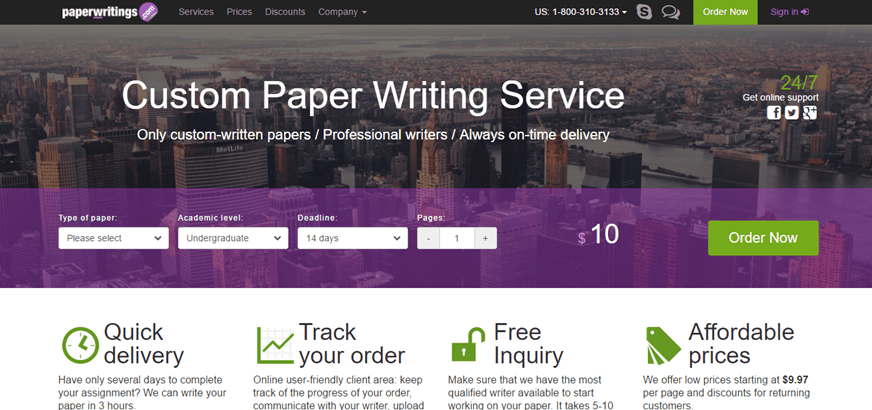 Services
There is an seemingly extremely extensive list of services for students to choose from, however, many of these services are just the different subjects and in reality, the services list only provides for seven assignment types. The services are also fairly limiting as you can only choose from three academic levels. There is a wide choice of deadlines to choose from.
Pricing
Although not the most expensive writing service out there, a ten-page essay, even on a two week deadline, will set a student back nearly $200, a huge dent in their already restricted budgets, making the site completely unsuitable for regular use, for example, towards the end of term when a lot of assignments may be issued. There are, however, a number of discounts available as the ever present pop ups will remind you.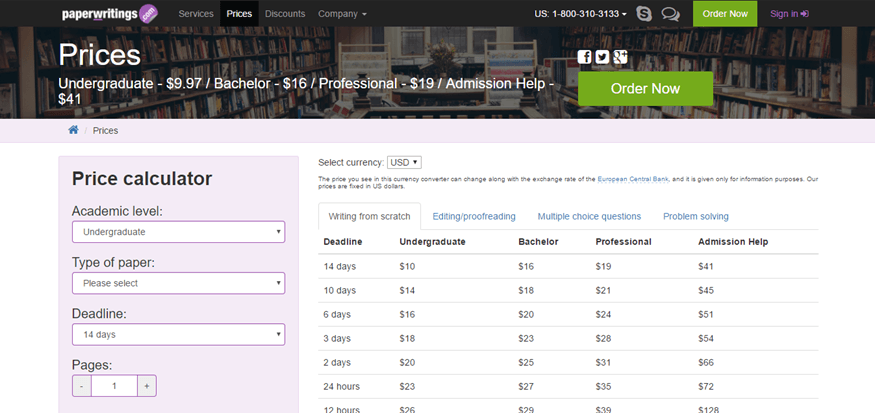 Quality
The quality of the work from PaperWritings.com is up for debate. The testimonials page boasts shining 5* reviews however, these reviews seem staged and the company Facebook page only has 500 likes which causes a lack of credibility in the site and the writers. This causes me to believe the site runs illegitimately or is a start up company that has faked its testimonials to boost sales and is possibly even a scam, although there is no solid proof of this.
Customer Service
Paper Writings boasts a broad range of communication methods including phone, email, live chat and even Skype, allowing a fantastic range of ways to air your concerns with the company, should anything go wrong or is not up to standard. Unfortunately, the phone lines are only available for students living the US, UK or Australia, meaning students located in the rest of the world may be unable to contact the site directly.
Mary Walton's conclusion on PaperWritings.com
In conclusion, PaperWritings.com could be a fantastic writing solution service, unfortunately, it's just not ready for the majority of students. Despite the broad range of assignment types and fair pricing, students looking for a reliable writing solution service they can use regularly are much better off going else where to a leading site that has all the features.
Rated: 2.5