Do you find that your workloads creep up on you as a student? Trying to maintain the perfect balance of social life and work, whether it's coursework or a part-time job can be tricky and sometimes it can just feel completely overwhelming. Ninja Essays is here to try and alleviate some of that stress but handling your custom writing assignments. Emphasis on the 'try'.


Top Rated Essay Writing Services
Table of contents
Website Interface – 4/10
Logging on to the site, you'll notice some high-quality graphics that is relatively well laid out. There's a nice order form as soon as you sign on and as well as all the pages you would expect to see from a good writing service website. Unfortunately, as you scroll down the page and start clicking on various pages, you'll notice a large amount of filler content that's used to fill space. There's also an incredibly annoying live chat box that pops up every few minutes, masking some of the important features.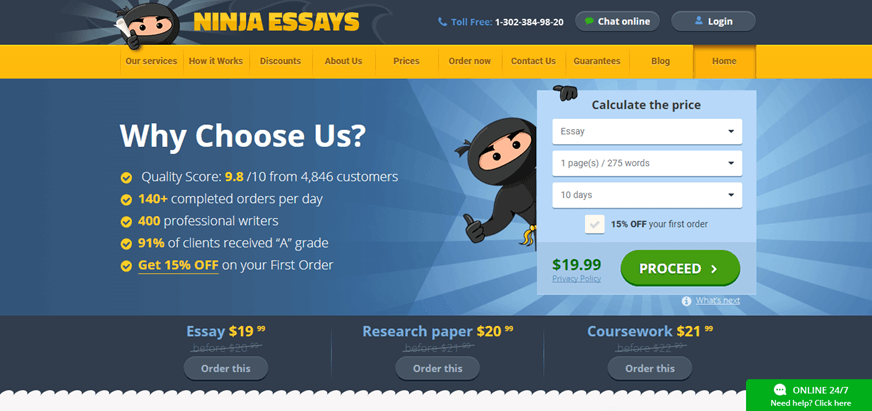 Services – 4/10
Referring to the dedicated services page, you'll notice the site only offers six main services. These are extremely broad and lack any kind of definition. Most of the market-leading custom writing service websites will list out each individual service with the option to choose the subject, giving you a lot more control over your order.
Pricing – 3/10
Moving on to the pricing page, this site boasts a positive and easy to use pricing table to work out the price of your assignment. As a trail, a ten-page essay written on a biology subject with a 48-hour deadline will set you back a staggering $329. This is fairly expensive, especially when compared to some of the more reputable sites. This may be acceptable to some students looking for a one-off article but this will be extremely inappropriate for those looking for a more regular service.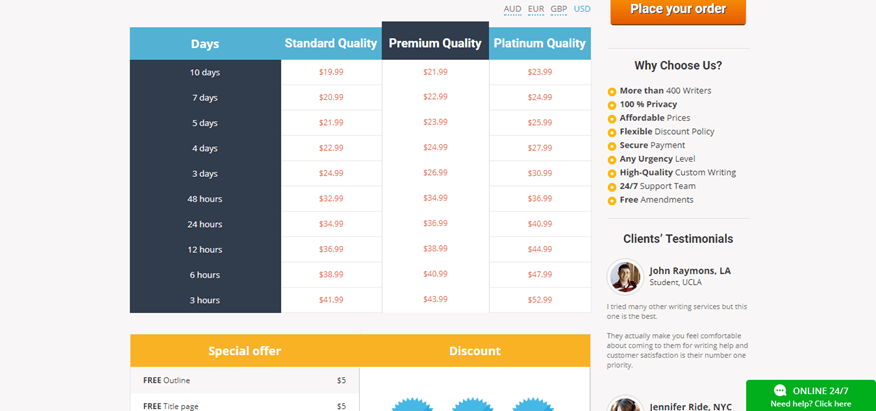 Content Quality – 4/10
As there is no testimonials page on the website, it's hard to judge what the quality of the content is. After a bit of online searching, I soon discovered several previous clients with mixed reviews. Some said the content delivered to them was okay but needed some touching up. Others exclaimed that their content was riddled with mistakes such as typos and poor sentence structure. A select few also complained of extremely high levels of plagiarism, some even as high as 60%!
Customer Service – 4/10
There are a couple of ways to contact NinjaEssays should you take up business with them. Referencing the contact page, you'll find an American phone number and an email address, no email form. This is very limited as international students operating outside the US will have to pay extortionate roaming fees. There's also a few reasonably active social media profiles and of course, the persistent live chat.

Mary Walton's conclusion on NinjaEssays.com
Although NinjaEssays.com has the potential to be a great custom writing service, there's still a few things the site needs to brush up on before becoming one of the best. By keeping their content consistent in regard to quality and making their site more accessible to international users, the site could do really well for itself. In the meantime, for those looking for a custom writing service now, you're much better off taking your business elsewhere.
Rated: 2.1