Nerdify is a registered trademark of CLS Research Limited and is mentioned in this article under comparative fair use. Simplegrad.com is not associated with and not sponsored by Nerdify trademark owner CLS Research Limited.
---
Nerdify bill themselves as a slightly different university writing service. They only operate through text or Facebook Messenger, and they say they'll help you with any task. This review will check how well their services are, and whether they can really offer you a deal.

Top Rated Essay Writing Services
Table of contents
Services – Not a Clear Idea of What They Will or Won't Do
Go Nerdify are slightly different, as they don't lay out everything they can do. However, they do say that you can text them and ask. Some examples given are writing, exam question help, and book deliveries. It does mean they could have a wide range of services on offer, but there's not a clear idea of what they will or won't do.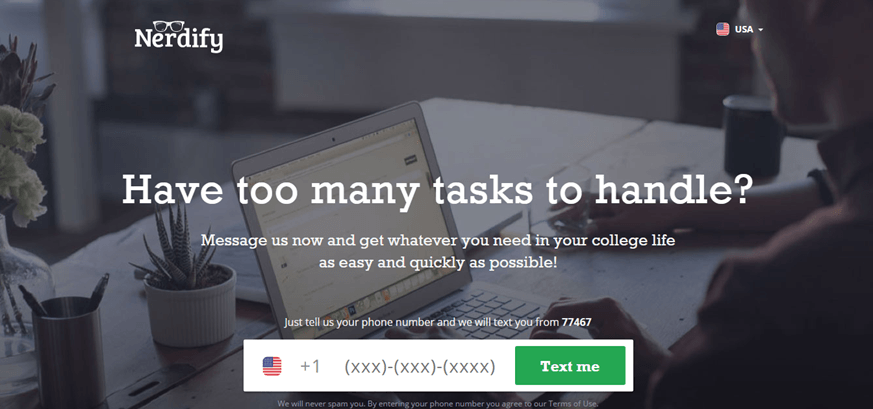 Website screenshot source: https://gonerdify.com as seen of April 28, 2017
Quality of Writers – Essay I Got Wasn't Great
The writers at this website, called 'Nerds', were put to the test. I found the log in/sign in page and made myself an account, ready to order. They were happy enough to help, but the essay I got wasn't great. It seems as though the Nerds are Jacks of all trades. It was clear that the writer I had didn't have a background in my subject, so the essay really was lacking. I couldn't have handed it in as it was, but it was good enough after slight editing and corrections.
Prices – About Average, No Discounts
My invoice was $30 for an essay, which was a 2:1 standard, 2 page undergraduate essay. That's about average. There's no discount or promotion code either, so there's no visible advantage for staying loyal to GoNerdify.com. They are a legit company, but I feel that this price was too high to be a real deal. Also, it's worth noting that there's no pricing matrix on the website itself. If you want a price, you'll need to text in first.
Deadlines – Almost Missed
I gave the 'Nerd' I worked with my deadline, and they did manage to deliver in time, but only just. As an anxious student, I want to know where everything is at all times. Not having my essay until so late in day wasn't good for me or my blood pressure.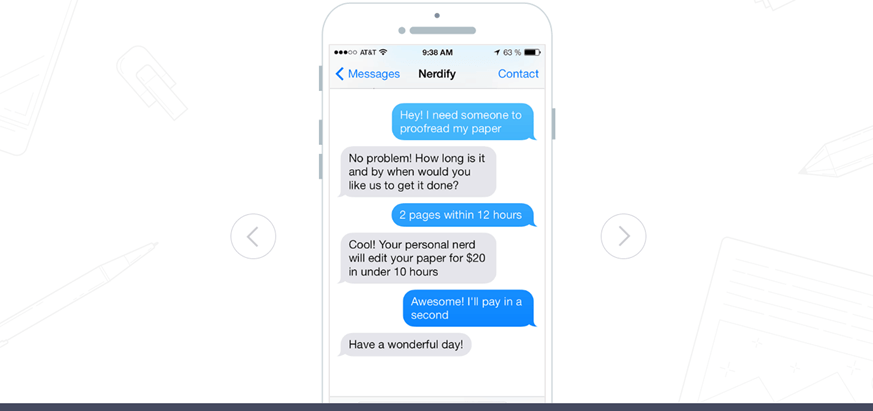 Website screenshot source: https://gonerdify.com as seen of April 28, 2017
Customer Service – Lack of Contact Methods
You can contact the Nerds via text message, or for free via Facebook Messenger. If you don't want to use those methods though, you may be out of luck. Comparing to what other custom writing websites offer, there really should be a safe, dedicated support number, so you can ask these kinds of questions when you need to.

Mary Walton's conclusion on GoNerdify.com
There's plenty of sites that will scam you, but GoNerdify isn't one of them. However, I think they're spreading themselves too thin. They're not providing the full list of services and there is no clear price table for each type of assignment and urgency. There is also no dedicated support phone number that might be a problem for some clients.
Rated: 3.7