To begin with, Essay Tigers looks and feels like a professional and well-invested in writing service website. With a clear and easy to navigate website, the first impressions are quickly dampened as users start to use the service and place their orders. Although not the worse custom writing service I have ever reviewed, the site still has a long way to go before it can be considered one of the best.


Top Rated UK Essay Writing Services
Table of contents
Website Interface – 6/10
The first impression of the website is a relatively clean site that is easy to navigate. There is easy access to all the pages you would expect the site to have, with all the information you need to make a solid evaluation of the site. The imagery used on the site is very dated and looks very cheap with could do with some updating but apart from that, the website is relatively decent. However, outside of the homepage, many of the pages lead to dead ends and this should quickly be addressed.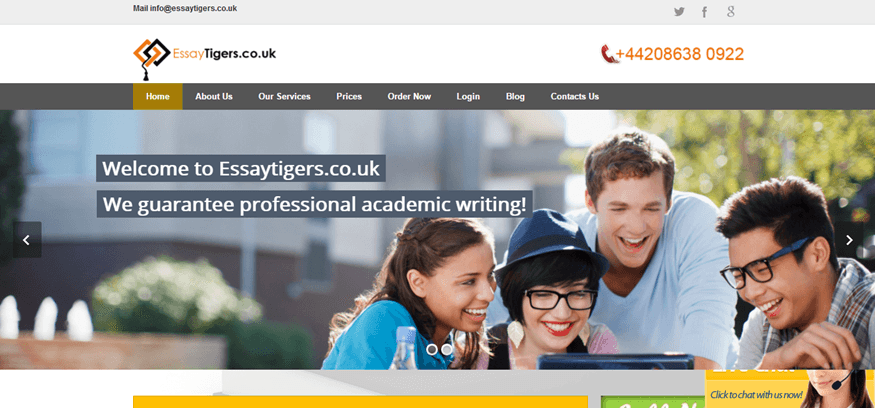 Services – 3/10
Referring to the services page of the website, you'll be confronted with a dead-end page. The only way to really see what the website has to offer is to head to the Order Now page. Here, you can choose from a very limited selection of services that cover all the basics but fail to include any of the more niche essay types, meaning that students looking for a solution that covers all the bases are better off going elsewhere.
Pricing – 4/10
Using the dedicated Pricing page, you can select your paper type for a rough quote of how much your assignment will cost. A single-spaced ten-page essay with a 48-hour deadline will set you back around £340. This increases to £370 if you choose to have a 'premium' quality paper written. Although not the most expensive writing service company, this can make a serious dent in any student's budget and is not suitable for a regular writing service. Many of the market-leading websites are much more affordable.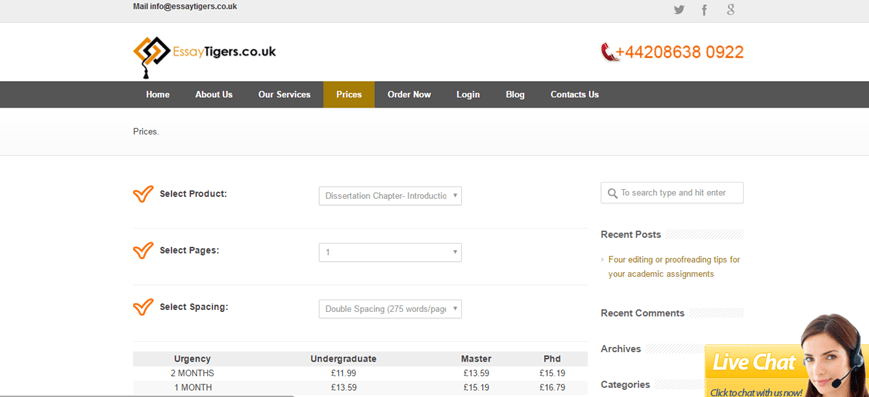 Content Quality – 5/10
The quality of the writing website is not too bad, with the testimonials page boasting an average score of 93% customer satisfaction, however, there is no name, content type or proof on who these reviews have come from, leading me to believe they have been falsely generated to increase sales. This leads me to doubt the website's authenticity and credibility. There have also been reports of poorly written content when it comes to grammar and punctuation and even re-sales.
Customer Service – 6/10
There are a number of ways you can contact the site, whatever reason you wish to. You can use the Live Chat feature which is shown on every page, or you can use the email form located on the contact page. There is also a phone number that UK users can use; however, the cost of this number will be very expensive to those living outside of the UK, making it unaffordable for many international students.

Mary Walton's conclusion on EssayTigers.co.uk
EssayTigers.co.uk may excel in some pages but it still has a long way to go until it can be classed as a go-to writing service website. Once the site can invest in improving the quality of its writers, making its prices more competitive and updating the design of the site, only then will it have a chance of becoming on the best. UK students looking for a writing solution now will be much better off sticking to one of the tried and tested websites.
Rated:2.3