I remember the days of being a student. Trying to juggle and balance all the aspects of your life is not an easy thing to accomplish. Dissertation Time has made it their mission to alleviate some of the stresses of student life by offering a comprehensive writing service that can free up your time. Unfortunately, there's a lot of work still to do.


Top Rated Dissertation Writing Services
Table of contents
Website Interface – 4/10
My initial opinion of DissertationTime was rather impressive. The site looks nice and uncluttered and it's relatively easy to navigate and find everything you're looking for. There's all the pages you would expect to see and some nice-looking graphics. My only real concerns are the fact you can't make an order straight from the home screen, a must when it comes to good customer writing services, and, as you scroll down the homepage, there's a lot of useless filler content that doesn't really need to be there.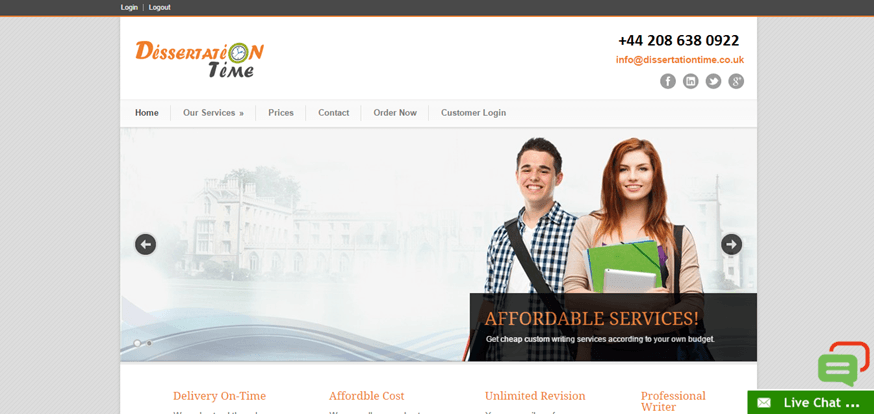 Services – 2/10
Referring to the services page, there's not much going and these pages are in desperate need of an update. The only way to find a real list of services is by going through the process of making an order. Here, you'll find several of the main services are covered but there's a distinct lack of some of the more niche, yet popular assignments, meaning students looking for a writing service that ticks all the boxes are better off looking elsewhere.
Pricing – 3/10
Looking at the Pricing page, you can do a quick comparison on prices. You are able to choose from a variety of deadlines, which is nice, but upon inputted my requested document, I was shocked. A ten-page essay with a 48-hour deadline will set you back £335, £370 if you want a premium standard. This is extortionate and that's without the plagiarism checks and references sheets etc. There are much more affordable solutions out there.
Content Quality – 2/10
The site houses an extremely poor review system. There's no star or "out of ten" system, no explanation of the assignment that each user is reviewing and there's no date, meaning in theory the reviews could be ten years old. Although the reviews look good, an online search reveals that many customers have been complaining about the obvious lack of native English writers that the site must use and there was even a mention of re-sales.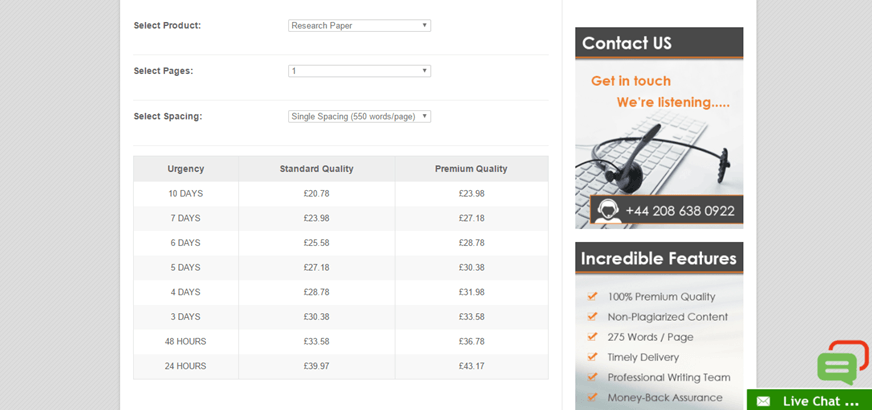 Customer Service – 4/10
Luckily, if you were to use the site and wanted to get in touch, there are several contact methods you can use. The most obvious one would be the live chat feature, shown on every page of the website. You could click the contact page and submit an email form and you can even call up and speak to them in person. It's worth noting that the number is a UK mobile line, meaning if you live outside the UK, you may be charged quite a high fee.

Mary Walton's conclusion on DissertationTime.co.uk
DissertationTime.co.uk leaves a lot to be desired. The site has built a good foundation for its writing services but there's a lot of work that needs to be done. With lower prices, better, international customer service options and an improvement in the quality of the content, this writing services could be setting the bar in the future. For students looking for a solution now, however, my advice is you take your business to a more trustworthy and respected writing site.
Rated: 1.9