AcademiaWriting say they can get an essay to you with only 12 hours notice. Is that legit, or just another scam? I was curious, so I made an account to find out more for this review.


Top Rated Essay Writing Services
Table of contents
Services – 4/10
There appears to be plenty of services on offer on the Academia Writing website. There's essay and assignment writing, as well as ebook writing, presentation creation, and dissertation work. At first, I was surprised when I couldn't find proofreading as one of their offered services. However, I found that they do offer it, only it's been spelled 'proodreading' on the site. Oh dear.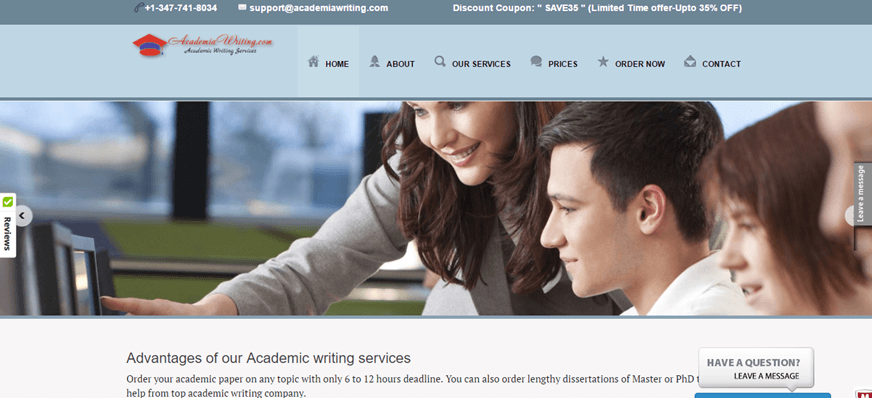 Quality of writers – 2/10
I made sure to sign up and put in an order, so I could see for myself what the writing is like. Some services border on the illegal/legal, so I wanted to make sure AcademiaWriting.com are the real deal. Turns out, they send you an essay, but the quality is dreadful. The essay was full of easily fixed errors, and the writer's knowledge left something to be desired. I wouldn't have been able to use this at school.
Prices – 3/10
I paid $45.98 for my essay. This price was for a 2:1 standard undergraduate essay, at 2 pages long and delivered within 10 days. That price is rather high for what the site could offer, and I have certainly bought better papers for less in the past. What was rather disheartening was that the only discount you can have is a small amount of money off, if you place a certain amount of orders. I couldn't find another promotion code for you.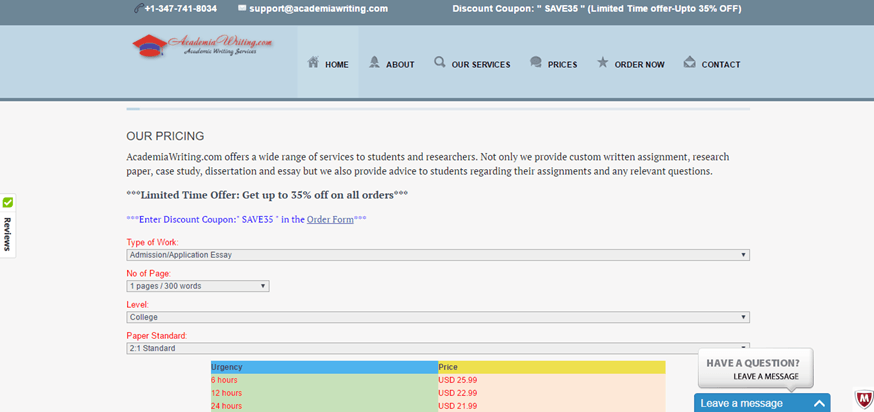 Deadlines – 2/10
You expect an essay to be delivered within the time frame given, when you order it. I wasn't as lucky with this service. The deal was to deliver within 10 days, but I had to wait an extra 24 hours before I got my essay. As you can imagine, I wasn't impressed.
Customer service – 3/10
Academia Writing say they're a safe place to order from, and they offer all kinds of support. There's a phone number to ring, live chat, or on site messaging if you need their help. I tried to get a refund thanks to my late essay, but the customer service team wasn't very helpful. Not great when you're selling yourself as having the student's interests at heart.

Mary Walton's conclusion on AcademiaWriting.com
You're free to contact any writing service for your essay, but I can't recommend Academia Writing. You'll need to login/sign in before you can talk to them, and I'm not convinced they care enough about what they're giving you. I would contact another writing service, if I were you. Get a better essay for less money, and from a company who understands what it's like to be a student!
Rated: 2.2