Thinking about putting in an order for a custom written essay? When you're looking for a website to help you out, sometimes it can be difficult to tell the scams from the legit sites. You also want to be sure you get a good deal, with excellent writers and great prices, and maybe even a sneaky discount.
I'm taking a look at MasterPapers to see if you should feel free to go ahead with them.


Top Rated Essay Writing Services
Table of contents
Services – 5/10
Other than the typical essay, Master Papers will also do your assignment for you, write a speech, and even apply to a job (or fill out the application, anyway). They cover all students from high school on up and provide more or less twenty different kinds of services. They also promise a refund if you don't need the paper or are dissatisfied with it, and guarantee plagiarism-free work. In addition, if you are putting through a first order, you get a 15% discount, and there might be other promotions or codes around the site.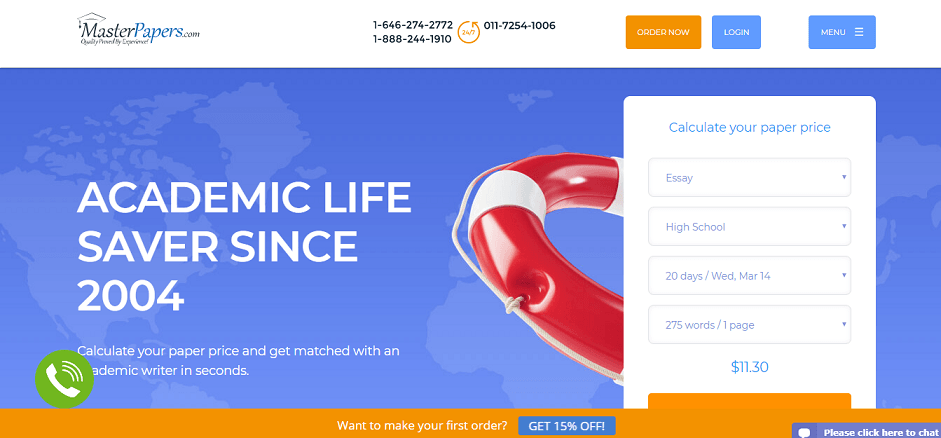 Pricing – 4/10
Running a quick quote on MasterPapers.com was easy with the form available right there on the front page. I asked for a 9-page essay at Master's degree level, due in 48 hours. They quoted $269.55 as a total price, which is expensive but roughly comparable with other similar sites. However, when I clicked through to the Order Now page, I got several other add-on options, such as assigning a top writer, adding a plagiarism report, adding a summary, adding a Professional Quality Check, or making the order high priority. Adding all those services on takes the total to a whopping $593.15, which I'm sure is far more than most students can afford.
Content Quality – 3/10
So what do you get for all that money? I looked over the site to see if I could find testimonials from previous customers and found some short positive reviews. The site also states that 95% of customers leave a positive review.
I also checked out the writing samples available on the site, which is something I recommend doing before you buy. Most of the writing was more or less okay, but there was some unusual phrasing that made me wonder if the writer was a native English speaker. In addition, I also caught some grammar and spelling errors in the papers.
Searching for external reviews threw up some very interesting details. The site has a number of both positive and negative reviews, but numerous negative reviews warn against the site, saying that papers have been plagiarised, that the end results were poorly-researched, and that as a service they were unprofessional.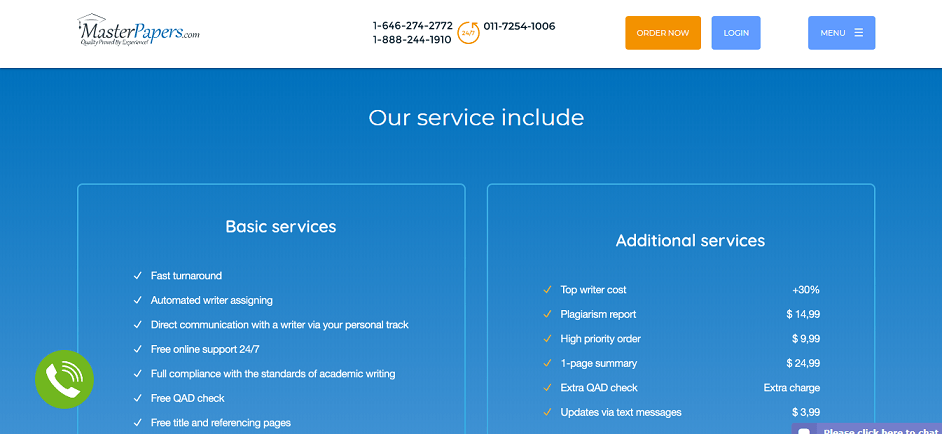 Customer Service – 4/10
MasterPapers provide a Live Chat service, as well as several support contact numbers, and links to Facebook, Google+, and Twitter. I could not find any information on where the support team or writers are located, other than a declaration that the writers are native English speakers living in the UK, the USA, Canada, and Australia.
Mary Walton's conclusion on MasterPapers.com
Overall, it must be said, those negative reviews worry me. There's no doubt that Master Papers is a website which has been in operation for some time, and that is a point in its favor. But it's not a good choice, be prepared to revise your paper significantly. I would choose a site that I was sure would give me a good product to start with, so I'd look elsewhere.
Rated: 2.3