Students everywhere are coming up against the same problems every single year. With mounting pressures from schools and college, the need to attend social events and some even holding down a part-time job, when does everybody think you're going to get your assignments done?
Affordable Custom Writing aims to alleviate this stress by completing your assignment writing tasks on your behalf. But, with so many services to choose from, how can you be sure this is the right one for you?


Top Rated Essay Writing Services
Table of contents
Services – 4/10
One of the first things you'll notice about AffordableCustomWriting is the fact that there's no services page or an order form on the homepage. This makes it incredibly difficult to find out whether your writing task is even covered by the website. However, all the information you'll need can be found on the pricing page.
Unfortunately, there are only around 30 basic services on offer from a standard essay and thesis to coursework and book reports. When you consider the leading services have 50+ services, this feels quite restricted.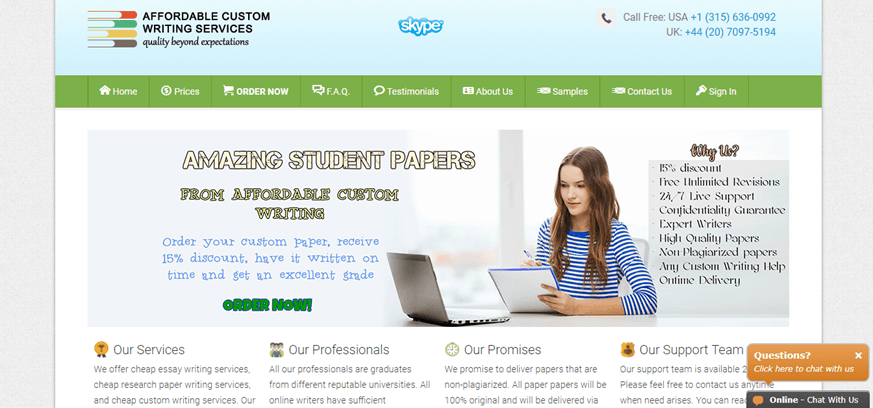 Pricing – 3/10
On AffordableCustomWriting.com, you pay per page that you order, and the price will vary depending on the deadline, academic writing level or and the type of assignment you want to be completed. All the information can be found on the pricing page.
As a rough guideline, a standard 10-page essay with a 3-day deadline, written to a Master's degree, will set you back just over $220. This is a fairly expensive service which may leave students on a lower budget taking their business elsewhere.
Content Quality – 4/10
As you'd expect on the testimonials page, many of the past customers have described how amazing the service was for them. However, none of these reviews has any dates or rating system, meaning they could be years out of date and no longer relevant.
Searching online, I discovered that many of their more recent customers had had a less than desirable experience. Many customers complained of poor quality content that was filled with grammar errors and spelling mistakes and there were even a few reports of high levels of plagiarism.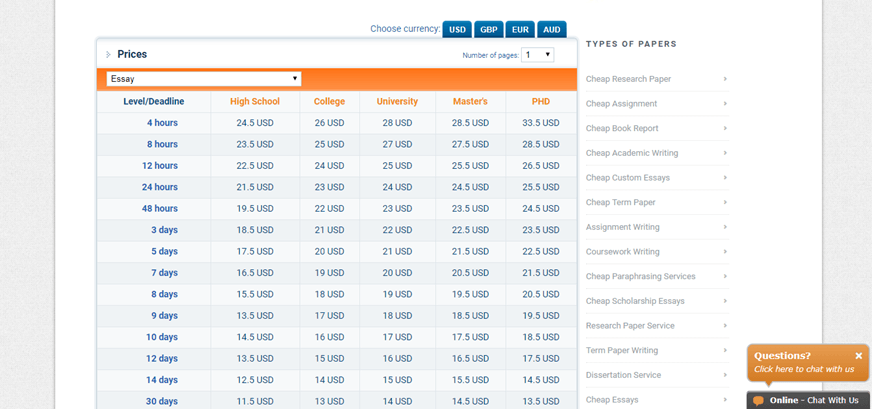 Customer Support – 5/10
Surprisingly, there are multiple ways you can contact the service should you need assistance. However, it does seem as though the link to the actual 'contact us' page is broken. However, you can still contact the service using a dedicated phone line (USA & UK only) as well as using the online live chat feature. You can also use Skype to call the service.

Mary Walton's conclusion on AffordableCustomWriting.com
I had high hopes for Affordable Custom Writing, but unfortunately, the website isn't just there right now. With quite high prices, a lack of comprehensive support options (especially for international students) and inconsistent content quality, it's highly recommended that you take your business elsewhere to a leading service.
Rated: 1.8